Instant Access for Cato SDP

Solving emerging business challenges with point solutions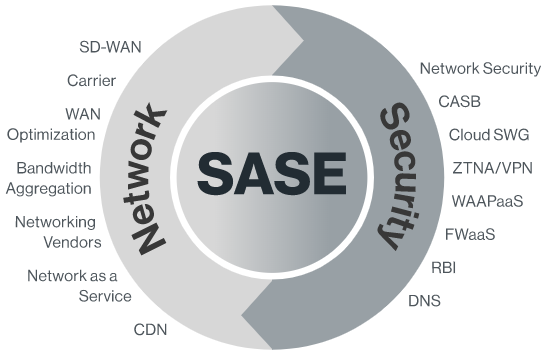 Solving emerging business challenges with point solutions leads to technical silos that are complex and costly to own and manage. Complexity slows down IT and its response to these business needs. SASE changes this paradigm through a new networking and security platform that is identity-driven, cloud-native, globally distributed, and securely connects all edges (WAN, cloud, mobile, and IoT).

With SASE, enterprises can reduce the time to develop new products, deliver them to the market, and respond to changes in business conditions or the competitive landscape.
Get in touch with a SASE Expert Today!
---
Cato is the World's First SASE Platform
Cato Cloud is a proven SASE platform you can deploy today. Cato's cloud-native architecture converges SD-WAN, a global private backbone, a full network security stack, and seamless support for cloud resources and mobile devices.

Customers easily connect physical locations, cloud resources, and mobile users to Cato Cloud, and IT teams immediately benefit from the agility of a unified network and security service managed through a single, self-service console.
---
Challenge
Point Solutions for Networking and Security are too Complex to Manage and Costly to Own

Current networking and security solutions are incompatible with the cloud-centric and mobile-first digital business. The network is rigid and static, and security is heavily fragmented across multiple domains. Together, networking and security are slowing down the business instead of enabling innovation and agility.
Solution
Cloud-native Convergence of Networking and Security enables Simplicity, Agility, and Lower Costs
Cato is delivering the world's first SASE platform, (and has been recognized by Gartner as a "Sample Vendor" in the SASE category of the "Hype Cycle for Enterprise Networking, 2019") through a globally distributed cloud service that provides enterprise network and security capabilities to all edges.
---

Legacy

Cato Cloud

Service Agility

Slow and Cumbersome

IT teams have to configure multiple solutions through multiple consoles, struggling to maintain consistency and control of the infrastructure. Provisioning new resources is slow and dependent on complex multi-product integrations.

Quick and Easy

Cato enables IT teams to deliver optimized networking and powerful security to all sites, applications, and users regardless of location. Provisioning new resources is fast and simple with the full range of Cato's optimization and security capabilities instantly available.

Visibility and Control

The Dreaded Silos

Technical silos created by point solutions limit collaboration across teams. Lack of visibility and fragmented control leads to slower troubleshooting, increased security exposure, and overall lower satisfaction levels from the business.

Teamwork, Regained

IT teams leverage Cato's converged software stack to maximize visibility into network traffic and security events. From the same interface, IT professionals configure and enforce corporate policies across the business. This enables better cross-team collaboration, improving overall service delivery to the business.

Infrastructure Management

Boatload of Busy Work

Owning and managing multiple on-premise solutions for networking and security forces IT teams to spend a lot of time on generic, day-to-day management, scaling, sizing, and upgrading of products. This leaves them little to no time to get business-specific projects done.

Focus on the Business

With Cato, IT teams are relieved of the grunt work of maintaining the infrastructure. Cato ensures the service is up-to-date and ready to optimize and secure all customer network traffic everywhere. This enables IT to focus precious resources and skills on business-specific requirements.

Cost Effectiveness

Complexity is Expensive

Buying, integrating and maintaining multiple products is costly. Each product has to be sized to support current needs and future growth and often requires upgrades as requirements change. As the number of point products grow, complexity increases exponentially. And, moving complexity to the service providers only increases their costs, leading enterprises paying more or suffering lower quality of service.

Simplicity Costs Less

Cato dramatically simplifies the delivery of networking and security to the business. The capabilities you require are built in not bolted on and there is no need to size, scale, or maintain the Cato service. Cato's converged, cloud-based platform and flexible management options enables significant cost reduction.